Development time: 2 hours
I gave the game to a friend to play, and their immediate reaction was "I don't like tilt to move, why can't I tap?" Since I had already met the game jam deadline, I decided to throw a couple more hours into it before the deadline and implement "tap to move". And now since I had two different mobile control schemes, I also added a new section to the config screen so that users could always change their mind later.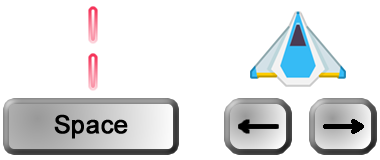 I created three new images to represent the control schemes, and then added a new scene. If the user has never played the game before then they will be taken to a screen where they either are shown which keys to use (for desktop and simulator) or they are give the choice between "tilt to move" and "tap to move".
Next: Post Project Thoughts